POLITICS
Morocco's Contributions in Field of Disarmament Highlighted in Geneva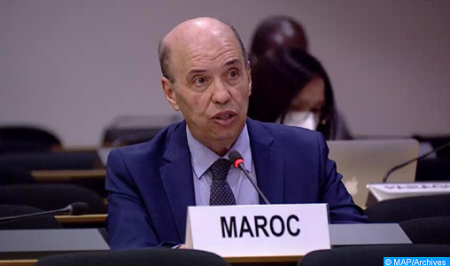 Morocco's ambassador and permanent representative in Geneva, Omar Zniber, on Thursday, highlighted Morocco's contributions in the field of disarmament in the service of world peace and global security.
Speaking at the first plenary meeting of the Conference on Disarmament for the year 2021, the Moroccan diplomat noted that the issue of disarmament is placed by Morocco among the priorities of its multilateral diplomacy. He also highlighted the Kingdom's commitment to the mandate of the Conference on disarmament as well as its crucial importance in the multilateral disarmament system.
On this occasion, Zniber called for a quicker response to requests to participate as observers in the works of the Conference, without representing either controversy or hindrance.
He also called for the unconditional lifting of the objections raised, emphasizing Morocco's support for the participation of Saudi Arabia and the United Arab Emirates as observers.
"The contributions of Saudi Arabia and the United Arab Emirates are important, useful and encouraging for our work," he said.
The ambassador also highlighted Morocco's multiple endeavors in the area of disarmament for peace and security in the world, recalling the various roles played in the process of development and implementation of the Nuclear Test Ban Treaty, as well as the many presidencies it has held.
He cited, for example, the organization of the 16th regional meeting of African States Parties to the Chemical Weapons Convention in Marrakech and the co-chairmanship, since 2016 with the Netherlands and then Canada, of the Global Counter Terrorism Forum (GCTF).
During this meeting, held under the Belgian presidency, the Ambassador also called for reconsidering the Conference's strategic priorities through better consultation, which would allow to build momentum of great importance on the central themes of nuclear disarmament.