POLITICS
WORLD NEWS
Gov't Chief Dutch PM Call for Identifying New Avenues for Economic Cooperation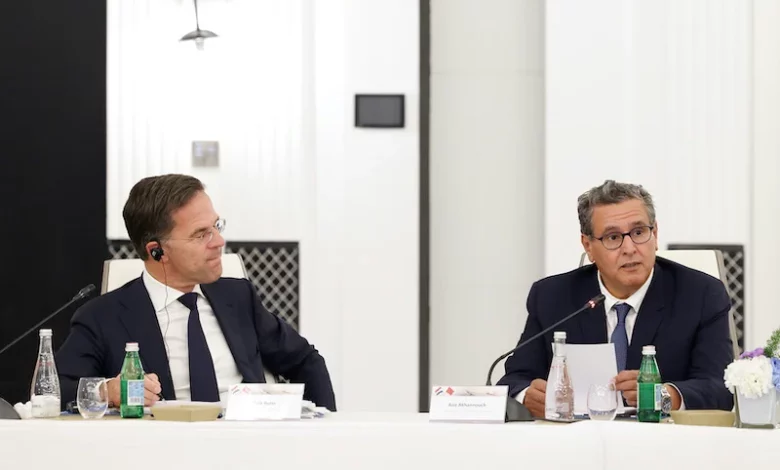 The Head of Government, Aziz Akhannouch, and the Prime Minister of the Government of the Kingdom of the Netherlands, Mark Rutte, emphasized on Wednesday in Rabat the need to identify new areas of cooperation in fields of common interest, in order to establish a strategic framework for economic cooperation, promote investment and strengthen trade.
During his talks with Rutte, who is on a working visit to Morocco leading a large delegation of officials and businessmen, the Head of Government recalled the opportunities and incentives offered by the new investment charter and by the Mohammed VI Fund for Investment, as well as by the national green hydrogen strategy to be adopted shortly, in accordance with the High Guidelines of HM King Mohammed VI.
According to a statement by the Head of Government's department, the two parties stressed the need to hold a business forum between economic operators in the two countries, in order to prospect existing investment opportunities in priority sectors, such as renewable energies, water resource management, agriculture, combating the effects of climate change and other areas of sustainable development.
In addition, the Head of Government and the Prime Minister of the Netherlands discussed tripartite cooperation with friendly African countries, with a view to enabling Dutch companies wishing to invest in Africa to benefit from Moroccan experience and expertise, given the Kingdom's privileged status within its continent and the significant presence of the Moroccan public and private sectors in several African countries.
During these talks, which also focused on ways of strengthening the friendly relations between the two countries and promoting bilateral cooperation in all fields, the two parties praised the quality of the age-old friendly relations between the Kingdom of Morocco and the Kingdom of the Netherlands, established for over four centuries, noting with satisfaction the current momentum in bilateral relations, which is likely to foster the establishment of a strategic partnership between the two Kingdoms.
The two parties also discussed the content of the joint Morocco-Netherlands statement, adopted in May 2022 in Marrakech, which constitutes a genuine roadmap for bilateral relations and enshrines the shared determination to pursue permanent political dialogue at all levels and to work through joint mechanisms to strengthen cooperation in the economic, social and cultural fields.
In this respect, Akhannouch expressed Morocco's thanks for the positive and constructive attitude of the Kingdom of the Netherlands towards the issue of the Kingdom's territorial integrity, which supports the efforts of the UN Secretary-General's Special Envoy and considers the autonomy plan presented by Morocco in 2007 to be a serious and credible contribution to the UN-led political process.
Akhannouch and Rutte also discussed a number of regional and international issues of common interest.
ALdar : LA MAP