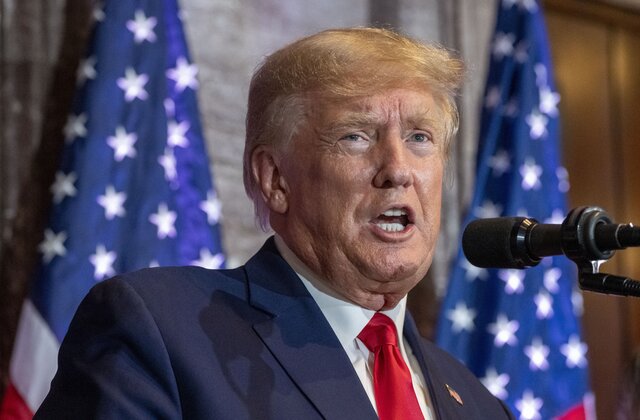 All the hearings will be available live on Fulton County Court's YouTube channel, said Judge Scott McAfee.
A date for the trial has not yet been set, but it could be next year when Mr Trump is running for re-election.
Mr Trump and 18 people are charged with a conspiracy to overturn the state's 2020 presidential election results.
The former Republican president, who faces three other criminal trials, has pleaded not guilty to the 13 charges he faces in Georgia.
All proceedings in Fulton County's courts are usually livestreamed.
However, it will be the only one of Mr Trump's four trials that will be broadcast, and could be one of the most watched trials in recent years.
Mr Trump briefly travelled to Atlanta last week to turn himself in at Fulton County Jail and have his mugshot taken. He has waived the right to appear in court next Wednesday at his arraignment, a short hearing at which the plea is officially entered in court.
* What are the charges in Trump's Georgia indictment?
* Trump seeks to make the most of historic mugshot
Prosecutors allege that he pressured Georgia officials to reverse the results of the election in the state, which he lost to Democrat Joe Biden.
Central to the prosecution's case is a phone call he made to the state's secretary of state to "recalculate" the vote tally.
"I just want to find 11,780 votes," he is heard saying on a recording of the call.
Media caption,
Donald Trump: "I just want to find 11,780 votes"
Mr Trump has said the call was "perfect" and his lawyers listening on the call did not raise any concerns.
The former New York real estate tycoon is the current frontrunner for the 2024 Republican presidential nomination and his mounting legal problems have done nothing to dent his popularity among his supporters.
He has said the case in Georgia and the other three criminal cases he faces are politically driven.
* How big are Donald Trump's legal problems?
* Young Republicans in Georgia look beyond Trump
Several of his co-defendants in Georgia, including his former lawyer Rudy Giuliani, have said they will waive their right to appear in court next week.
Clark Cunningham, a law professor at Georgia State University, said that decision is "usually non-controversial".
"Mr Trump fully knows the charges against him," he said. "That's the main purpose of the arraignment, to read the charges to the accused, and [to enter] the person's plea. So he doesn't need to be there, he knows what they are."
Among the charges he and his co-defendants face is racketeering, commonly known as the Rico act.
Across the US and at the federal level, Rico laws are used to help prosecutors connect underlings who broke the law with those who gave orders or organised the crime.
Additional reporting by Kayla Epstein
Aldar/ Bbc